INDUCTION
SEALER
Induction sealers are used for hermetically sealing the plastic & glass bottle caps with aluminium foils. This makes the bottles leakproof & tamper evident and offers extended shelf life. Induction sealers are widely used in pharmaceutical, Chemical, Lubricant, Cosmetic and Food industries.
Manual Induction Sealer
Features :
Employs the principle of electro magnetic induction
Simple in operation, air cooled
Convenient torch unit
Ideal equipment for small production
Economically priced
---
Table Top Induction Sealers.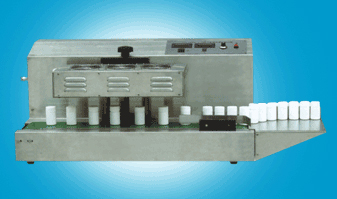 Employs the principles of electro manetic induction
Features :
This is table mounted and simple in operation
Adjustable electronic timer.
Higher Production
Variabl speed conveyors
Air-cooled
Power: 1.5 KW
Conveyor speed: 0~10 Mts./ Min.
Bottle Dia: 20~50mm
Bottle Height: 40~200mm
Weight: 38 Kgs
---
Continuous Induction Sealers
Features :
Employs the principles of electro manetic induction
Mounded on castor wheels and can be moved on the factory floor
Higher Production
Variabl speed conveyors
Air-cooled
Power: 1.5 KW
Conveyor speed: 0~12 Mts./Min
Bottle Dia: 30~130 mm Bottle Height: 10~300mm
Size: 1550X550X1350 mm
Weight: 72 Kgs