Continuous
Band Sealer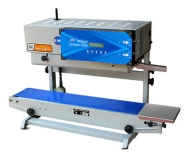 To seal different types of pre filled flexible bags continuously. Applications in various industries like food packaging, chemicals packaging, packaging of engineering and industrial items etc.
Features :
Adjustable temperature controller / micro controller
Variable speed conveyor
Suitable for a wide spectrum of materials and sizes
Vertical & Horizontal mountable models
Compact, Easy to operate, Economical
Models :
H – Horizontal
HV – Horizontal / Vertical convertible
CS – Continuous sealer ( suitable for laminated pouches )
CSi – Intelligent micro – controller based ( suitable for virgin & laminated materials).
Technical Specification:
| | CS 3H/HV | CSi 3 HP/HVP | CSi15HVP | CSi30V | CS 75V |
| --- | --- | --- | --- | --- | --- |
| Sealing width | 12 mm | 12 mm | 12 mm | 10 mm | 10 mm |
| Max. Conv.Load | 3 kgs. | 3 kgs. | 15 Kgs. | 30 kgs. | 75 kgs. |
| Voltage | 240 V/50Hz. | 240 V/ 50 Hz. | 240V / 50 Hz. | 240 V/50Hz. | 240 V/50 Hz. |
| Power | | | | | |
| Conveyor Speed | 0-12m/min | 0-12m/min | 0-10m/min | 0-10m/min | 0-10m/min |
| Dimensions | | | | | |